Seniors Party - January 2017
On a crisp, cold and sunny day members of Wareham Lions together with their supporting ladies gathered once again to organise a January Christmas party for senior members of our community. Over 150 people came along to enjoy an afternoon of entertainment, good food and fun.
The Lions ferried 8 minibus loads of people from across the area to the Purbeck school till the hall was full of excitement. After being served a welcome glass of sherry the first entertainment was 'The Pastimers' an accordion and acoustic guitar playing duo who sang lots of the old songs bringing back memories to many gathered there. During the afternoon tea the children from the Stoborough Tap Dance Team gave a display of their skills finishing with a lovely routine to 'Singing in the rain'. After tea we were entertained by the delightful Allie Jay Crane who sang covers of fifties and sixties songs and right up to date music too. A wonderful afternoon ended with a stunning table of 100 raffle prizes.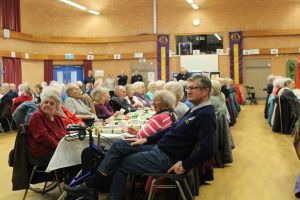 Seniors Party 2017 gets under way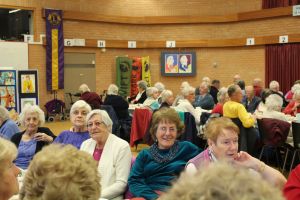 Party goers enjoying the entertainment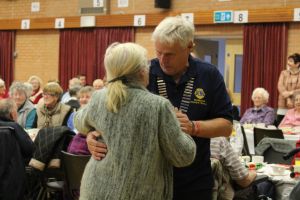 Lion President Richard Weaver takes to the dance floor!