WAREHAM LIONS SUPPORTING NHS - CAN YOU HELP?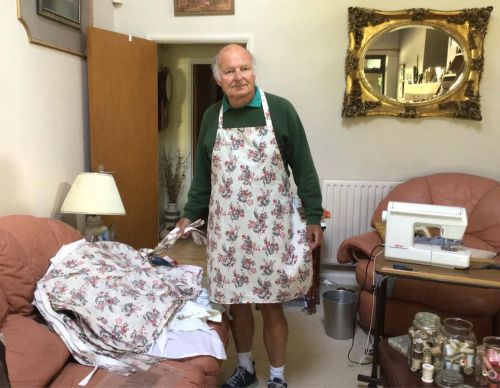 LION MIKE BARTLETT AND HIS WIFE LINDA HELPING THE NHS AND CARE WORKERS BY MAKING APRONS, OTHER WARHAM LIONS LADIES HELPING ALSO MAKING APRONS AND OTHER ITEMS. IF YOU CAN HELP WITH SEWING OR PROVIDE MATERIAL PLEASE PHONE 01929 551934 AND SAY WHY YOU ARE PHONING
UPDATE: ITEMS PRODUCED TO DATE BY LADIES OF WAREHAM LIONS AND DISTRIBUTED TO THROUGHOUT WEST DORSET TO HOSPITALS, CARE HOMES, HOSPICES AND SURGERIES - 109 x NHS APRONS, 45 x LAUNDRY BAGS, 74 x BUTTONED FACE MASK BANDS AND 10 x SCRUB HATS
CONGRATULATIONS TO OUR INTREPID SEWERS AND THEIR HELPERS - VERY WELL DONE!!!!