WAREHAM LIONS SUPPORTING NHS - SEWING SCRUBS AND SELLING PLANTS
SEWING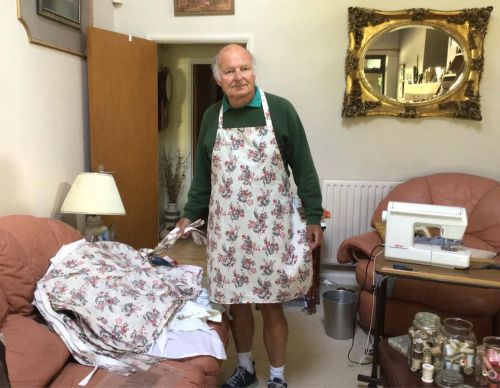 LION MIKE BARTLETT AND HIS WIFE LINDA HELPING THE NHS AND CARE WORKERS BY MAKING APRONS, OTHER WARHAM LIONS LADIES HELPING ALSO MAKING APRONS AND OTHER ITEMS.
UPDATE: 1000 ITEMS PRODUCED TO DATE BY LADIES OF WAREHAM LIONS AND DISTRIBUTED TO THROUGHOUT WEST DORSET TO HOSPITALS, CARE HOMES, HOSPICES AND SURGERIES - SCRUB SUITS, SCRUB HATS, NHS APRONS, LAUNDRY BAGS, FACE MASKS and BUTTONED FACE MASK BANDS.
WHAT AN ACHIEVEMENT? 1000 ITEMS BY AS 26TH JUNE AND SEWING MACHINES WILL NOW BE ALLOWED TO REST AS THERE IS NO LONGER A NEED FOR ITEMS UNLESS WE HAVE A SECOND OUTBREAK OF THE VIRUS.
CONGRATULATION TO ALL WHO HAVE WORKED HARD TO MAKE THESE MUCH NEEDED ITEMS - WELL DONE!!
PLANT SALES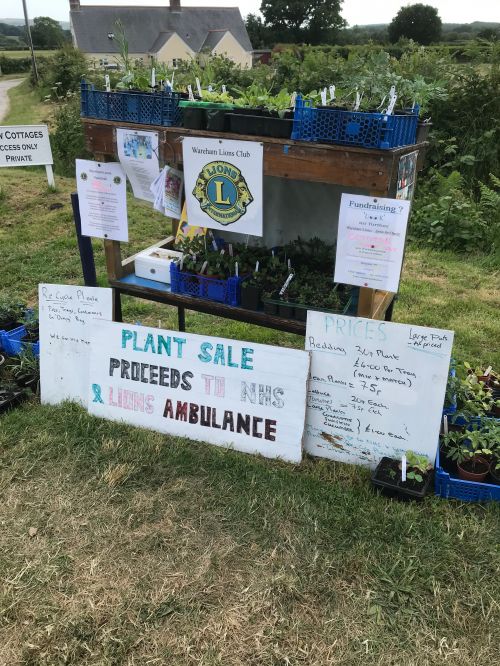 LION PAUL CADY HAS RAISED OVER A £1000 FROM THE SALE OF PLANTS WHICH WILL BE SPLIT BETWEEN WAREHAM LIONS AND THE NHS.
WELL DONE PAUL!!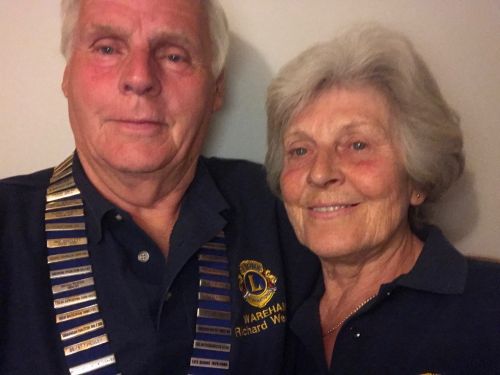 RICHARD and INGRID WEAVER WAREHAM LIONS CLUB PRESIDENT 2020 - 2021
NEXT EVENT
All events cancelled pending relaxation of the Covid 19 restrictions
What do I as president hope to achieve this year?
Firstly to get through this horrible pandemic with the club intact.
The next thing will be try and keep the club afloat money wise, as we all know we have not been able to carry out any fund raising activities, so that may be a little difficult. Hopefully we will be able to run the swimarathon but that is in the lap of the gods. I have high hopes for our seniors Christmas party and our charter but again we shall have to see.
Yours in Lionism
Richard Weaver
President Wareham
Lions Club
RICHARD WEAVER TAKES OVER PRESIDENCY FROM BOB WASEY FOR THE NEXT YEAR, CONGRATULATIONS TO RETIRING PRESIDENT BOB AND HIS WIFE PAT ON ALL THEY HAVE ACHIEVED, A GREAT YEAR!
Serving the community

If you are new to Lionism, through these pages you will be able to find out about the work of the international organisation of Lions and our Lions Club in particular.
If you are a Lion, and perhaps planning to visit our area, we hope that the information on our website will encourage you to visit us.
Have you some time to spare?
Please help us with some of our other projects:
Community Service
Working with other community groups e.g. Wareham Wednesdays, Citizens Advice Bureau, Carnival Committee, Father Christmas and Town lights Committee.
Driving for the community
BIRTHDAY CONGRATULATIONS - LIONS LADY DORIS IS A 100!!
CONGRATULATIONS TO OUR INTREPID SEWERS AND THEIR HELPERS - VERY WELL DONE!!!!