ALL PLANNED EVENTS CANCELLED PENDING RELAXATION OF COVID 19 RESTRICTIONS
Big thank you to Carol Turner for organising the delivery of Christmas Day lunches to elderly people living alone and to the staff at Quay Inn for cooking the food. 42 lunches were delivered as the traditional lunch at the Parish Hall could not be held.
Lunches donated by Quay Inn, boxes of chocolates by the Wareham Hardship Trust, loaves from the Italian Bakery and chocolate mints from Bendicks.
Images of Carol organising the deliveries and licensee of Quay with the first meals to go out: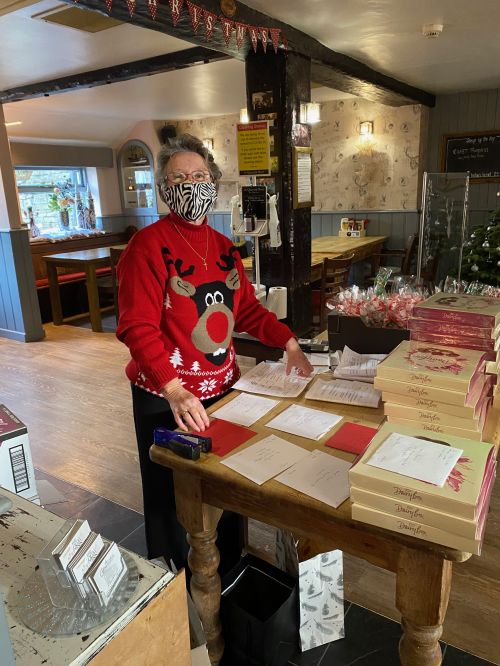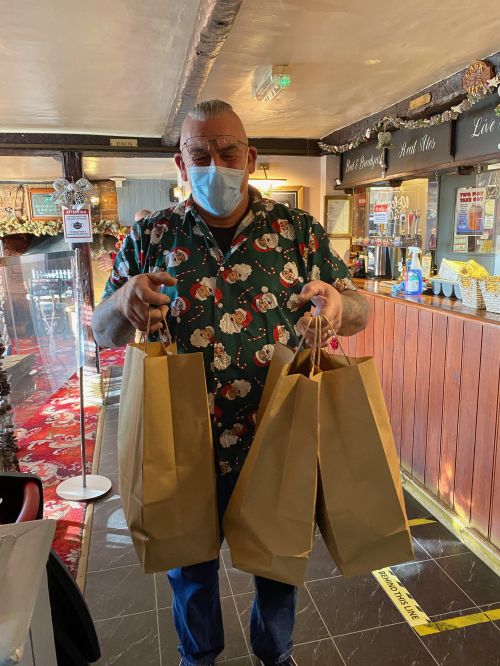 RICHARD and INGRID WEAVER WAREHAM LIONS CLUB PRESIDENT 2020 - 2021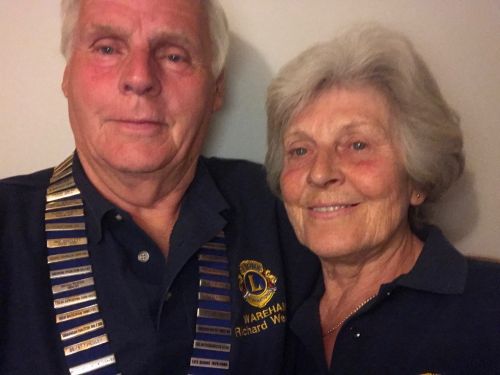 What do I as president hope to achieve this year?
Firstly to get through this horrible pandemic with the club intact.
The next thing will be try and keep the club afloat money wise, as we all know we have not been able to carry out any fund raising activities, so that may be a little difficult. Hopefully we will be able to run the swimarathon but that is in the lap of the gods. I have high hopes for our seniors Christmas party and our charter but again we shall have to see.
Yours in Lionism
Richard Weaver
President Wareham
Lions Club
,
Serving the community
If you are new to Lionism, through these pages you will be able to find out about the work of the international organisation of Lions and our Lions Club in particular.
If you are a Lion, and perhaps planning to visit our area, we hope that the information on our website will encourage you to visit us.
Have you some time to spare?
Please help us with some of our other projects:
Community Service
Working with other community groups e.g. Wareham Wednesdays, Citizens Advice Bureau, Carnival Committee, Father Christmas and Town lights Committee.
Driving for the community
Big thank you to Carol Turner for organising the delivery of Christmas Day Lunches to elderly people living alone and to staff at Quay Inn for cooking the food. Image below of licensee of Quay Inn supplying the first of 42 community Christmas Lunches for home delivery as the traditional lunch in the Parish Hall could not be held this year and Carol Turner who organised the deliveries with support from volunteers. The support from the community was outstanding. The lunches were donated by the Quay Inn, loaves of bread were donated by the Italian Bakery, boxes of chocolates by the Wareham Hardship Trust and mints by Bendicks'
Can you publish on the Wareham Facebook and Wareham Lions pages? Big thank you to Carol Turner for organising the delivery of Christmas Day Lunches to elderly people living alone and to staff at Quay Inn for cooking the food. Image below of licensee of Quay Inn supplying the first of 42 community Christmas Lunches for home delivery as the traditional lunch in the Parish Hall could not be held this year and Carol Turner who organised the deliveries with support from volunteers. The support from the community was outstanding. The lunches were donated by the Quay Inn, loaves of bread were donated by the Italian Bakery, boxes of chocolates by the Wareham Hardship Trust and mints by Bendicks'